Explore some of our best-selling exhibition products below.
Sometimes it's not just what you say, it's how you look when you're saying it. Our new Exhibit range gives you the tools to emphasise your message. For the first time, create enormous eye-catching displays… without the eyewatering price tag. Make the most of your next exhibit!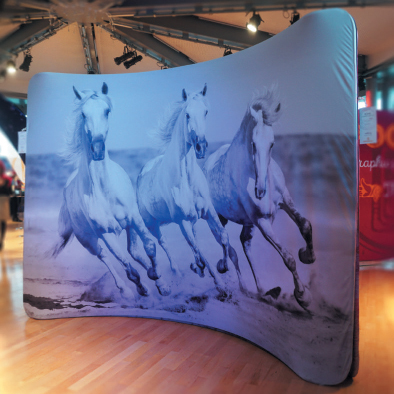 Our curved & straight backdrop displays pop up in minutes. Each has a continuous graphic, so you don't need to worry about lining up panels – stretch your message across the whole stand. And the magic of stretchy fabric is you can flip which side is front each time. One message at one event, flip, different message at the next.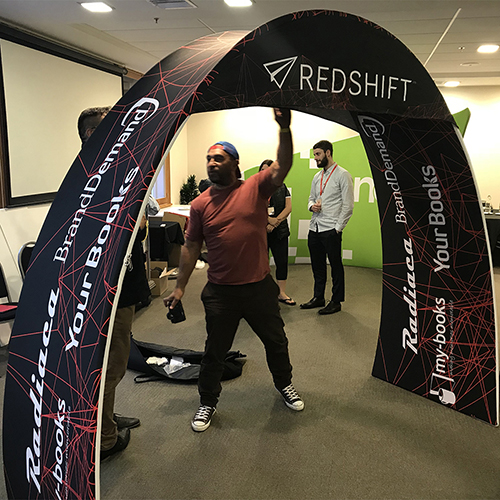 A fabric arch atand adds architecture and design to any event or interior space! Easily create and define a stunning entryway, focal point or stage set at your next trade show or event. Our arches combine pillowcase style stretch fabric graphics with 32mm curved aluminum tube frames; these super structures collapse to a fraction of their size and pack easily into one carry bag.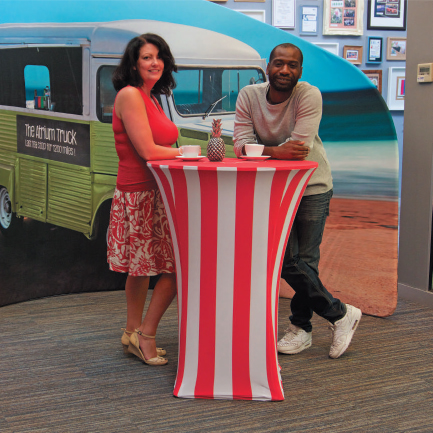 You always need a flat surface to rest your laptop, paperwork, pens or drinks on when exhibiting or running a promotion. These tables provide that useful platform whilst working hard to promote your brand, product or service at the same time.
The tablet stand provides an easy and secure way for you to display your tablet at exhibitions, meetings and events. The tablet is secured in place with a bracket and can be positioned as portrait or landscape. With the cover printed on the front and reverse, you can completely personalise it to your brand – creating an impressive and professional looking display.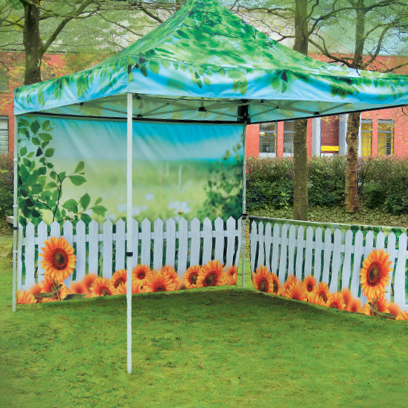 Printed gazebos are all the rage at
farmer's markets, festivals and fairs. Although they are designed for outdoor use, they're great indoors too – we've seen them used as self-contained exhibition stands. With two sizes – 3x3m and 3x6m, and options for full or half walls you can configure your gazebo exactly how you want it – the crowds won't be able to miss it!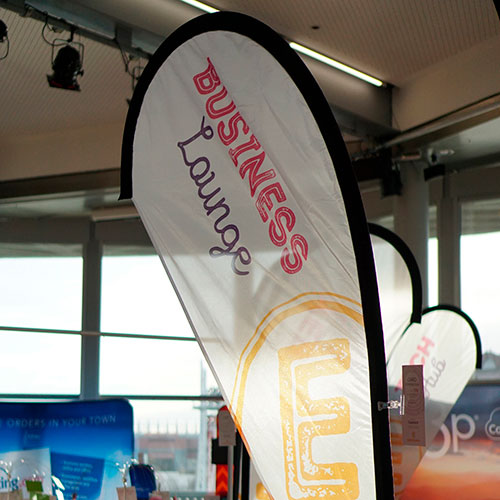 Stand out from the crowd with custom printed outdoor flags, available in various heights and with a choice of floor fixings. Our flags are the perfect way to get your business noticed, road-side or use at an exhibition or conference to add impact to your stand.