Health and Safety shouldn't really be about laws and regulations – first and foremost it's about looking after people, and a safe worksite means everyone goes home healthy and safe at the end of the day to their families.
Eliminating, isolating and minimising hazards is a practice that everybody needs to embrace, especially in construction – one of New Zealand's biggest industries with almost 200,000 workers.
Most workplace incidents are preventable with a bit of planning – why wouldn't you act to keep your staff, friends, co-workers and the general public safe?
Part of ensuring that anyone who is exposed to your worksite is kept safe and informed includes the use of safety signs.
Site Signage
Health and safety laws require that people on or near construction sites are warned of all hazardous activities taking place. Before any construction work begins, builders must ensure that an adequate number of general safety signs, depending on the size and complexity of the job site, are erected at the workplace.
We can advise you to ensure your site is compliant with NZ Health & Safety, and below are a few safety signs to consider!
E.g. Visitor Sign In & Hazard ID Signs
Do you have a clear sign in procedure for visitor to your site?

Mandatory Signs – these indicate that an instruction must be carried out. 

Warning Signs – warn of a hazard or a hazardous condition that is not likely to be life-threatening. 
Danger Signs – warn of a particular hazard or hazardous condition that is likely to be life-threatening. 

Emergency /First Aid – used to indicate the location of, or directions to, emergency-related facilities e.g. Exits, First Aid Kits, Fire Equipment.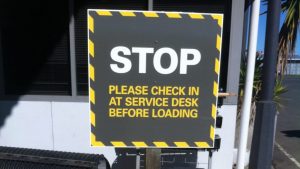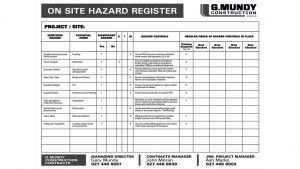 Talk to us about keeping your site safe with the correct safety signs.